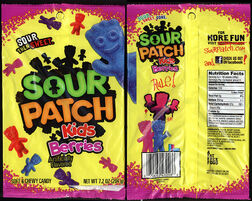 Sour Patch Kids Berries is one of the many flavors of Sour Patch Kids released. This Flavor includes 3 exclusive flavors, that can't be found in the Orignal Flavor, and one other flavor (Blue), which can be found in the Orignal Flavor (Before Late-2013, it was exclusive.)
These are a bit common. They aren't as common as the Orignal Flavor, and Watermelon, but you can still find them at CVS Pharmacy, Tom Thumb, and Five Below.
Ad blocker interference detected!
Wikia is a free-to-use site that makes money from advertising. We have a modified experience for viewers using ad blockers

Wikia is not accessible if you've made further modifications. Remove the custom ad blocker rule(s) and the page will load as expected.