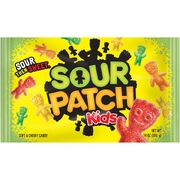 The Allan Candy Company and the Malaco Licorice Company of Sweden formed the M & A Candy Company, Hamilton, Ontario, was chosen to produce Sour Patch Kids in the late 1970s, offering quick access to the U.S. marketplace and the advantage of world sugar prices. They continued development of the candy in their Ewen Road facility in Hamilton, Ontario.[2] 
These are the Orignal Flavors they choose for the line. 
Red
Green
Orange
Yellow
Blackcurrent (UK Only)
Blue (Late 2013-Present)
Ad blocker interference detected!
Wikia is a free-to-use site that makes money from advertising. We have a modified experience for viewers using ad blockers

Wikia is not accessible if you've made further modifications. Remove the custom ad blocker rule(s) and the page will load as expected.